Boozyshop Ultimate Pro 22 pc Master Full Set
Das Boozyshop Ultimate Pro 22 pc Master Full Set ist ein komplettes Pinsel-Set, mit dem Sie Ihr Make-up auf professionelle Weise perfekt auftragen können. In diesem Set finden Sie alle erforderlichen Bürsten, von einer Konturbürste bis zu einer Mixerbürste und von einer Knickbürste bis zu einer Pufferbürste. Ihre Sammlung ist komplett mit diesem Set!
Die Bürsten haben einen schönen glänzenden schwarzen Holzgriff in Kombination mit einer schönen goldenen Aluminiumzwinge. Dieses Set besteht aus einer Mischung von Pinseln mit Tier- oder Kunsthaar und ist so konzipiert, dass Sie Ihr Make-up perfekt auftragen können.
Suchen Sie ein Pinselset, mit dem Sie alle notwendigen Werkzeuge haben, um Ihr Make-up wie ein echter Maskenbildner aufzutragen? Bestellen Sie jetzt das Boozyshop Ultimate Pro 22-teilige Master-Komplettset!
Dieses Pinselset besteht aus folgenden Pinseln:
UP06 Contour Brush
UP07 Highlight & Bronzer Brush
UP08 Under Eye Brush
UP09 Cream Contour Brush
UP11 Bake and Contour Brush
UP12 Face Finish Brush
UP13 Under Eye Blender Brush
UP14 Powder Blender Brush
UP15 Tapered Highlighter Brush
UP16 Sculpt and Blend Brush
UP23 Transition Blender Brush
UP25 Crease Blender Brush
UP26 Buffer Brush
UP28 Inner Corner Brush
UP29 Precise Blender Brush
UP32 Smudge Brush
UP33 Small Eyeshadow Brush
UP34 Large Blender Brush
UP35 Eye Definition Brush
UP38 Eyelid Brush
UP39 Precision Eye Brush
UP40 Cut Crease Brush
Wie benutzt man:
wöchentliche Reinigung
Empfohlenes Wartungsprodukt: Bürstenreinigungsseife & Pad
Trocknen: kopfüber mit Pinselschutz , um die Form des Pinsels zu erhalten.
PS: Beim Kauf dieses Sets werden die Bürsten in dem neuen Bürstengürtel geliefert, den Sie kostenlos erhalten, damit Sie die Bürsten problemlos aufbewahren und mitnehmen können, ohne sie zu beschädigen. Sie können den Bürstengürtel auch um Ihre Taille tragen, damit Sie die Bürsten immer griffbereit haben!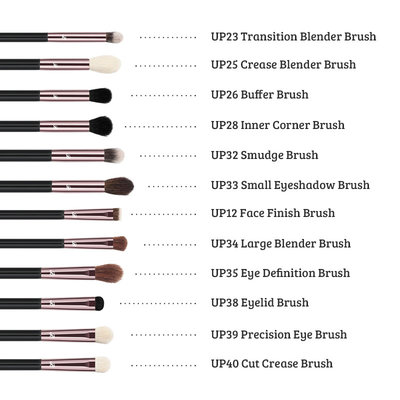 Wir helfen Ihnen gerne weiter!