Boozyshop Ultimate Pro 10 pc Master Face Set
Das Boozyshop Ultimate Pro 10 pc Master Face Set ist ein Pinsel-Set, mit dem Sie Ihr Gesichts-Make-up wie ein echter Maskenbildner perfekt und gleichmäßig auftragen können. In diesem Set finden Sie alle erforderlichen Pinsel, vom Textmarker bis zum Konturpinsel. Dieses Set ist eine wunderbare Ergänzung zum Boozyshop Ultimate Pro Starter Face Set!
Die Bürsten haben einen schönen glänzenden schwarzen Holzgriff in Kombination mit einer schönen goldenen Aluminiumzwinge. Dieses Set besteht aus einer Mischung von Pinseln mit Tier- oder Kunsthaar und ist so hergestellt, dass Sie Ihr gesamtes Gesichts-Make-up perfekt auftragen können.
Suchen Sie ein Pinselset, mit dem Sie über alle notwendigen Werkzeuge verfügen, um Ihr Gesichts-Make-up professionell aufzutragen? Bestellen Sie jetzt das Boozyshop Ultimate Pro 10-teiliges Master Face Set!
Dieses Pinselset besteht aus folgenden Pinseln:
UP06 Contour Brush
UP07 Highlight & Bronzer Brush
UP08 Under Eye Brush
UP09 Cream Contour Brush
UP11 Bake and Contour Brush
UP12 Face Finish Brush
UP13 Under Eye Blender Brush
UP14 Powder Blender Brush
UP15 Tapered Highlighter Brush
UP16 Sculpt and Blend Brush
Wie benutzt man:
wöchentliche Reinigung
Empfohlenes Wartungsprodukt: Bürstenreinigungsseife & Pad
Trocknen: kopfüber mit Pinselschutz , um die Form des Pinsels zu erhalten.
PS: Wenn Sie diese Bürsten bestellen, werden sie im kostenlosen, stabilen Getränkehalter mit mattem Lederlook geliefert, sodass Sie die Bürsten problemlos aufbewahren und mitnehmen können, ohne sie zu beschädigen!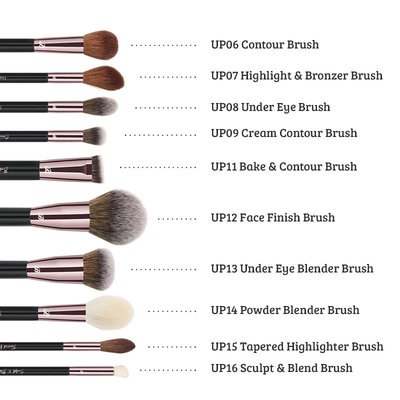 Wir helfen Ihnen gerne weiter!